Satisfied Customers | Our Clients and Portfolio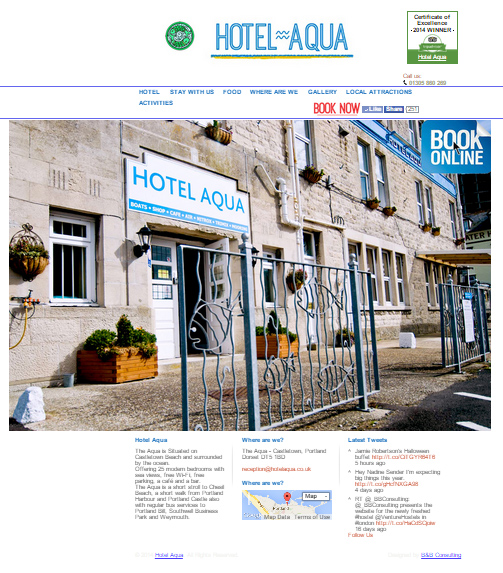 The Brief  
Hotel Aqua approached us to update their very outdated website. They wanted more functional, with social media integration and a prominent Book online button. They also had outdated pictures and  no gallery.
What we did 
Using WordPress we created a cleaner and more functional website. The homepage offers all the main information. Reduced the size of the website to to 6 main pages. Integrated a gallery that showcases their product and compatible in all devices.
The results 
The website is more functional, appellative and it's easy to navigate. There's an identity/ brand that they have also adapted to all their offline material. Integrated the book online button and social media on the website. Created their facebook page also with an online booking button.
 The feedback from our customer
Sandra is a star.  She has upgraded us to a fresh, modern looking website, helped us identify which of the online agents fits our hotels profile best, and advised us on our booking engine and how to integrate it with the online booking sites.  Compared to last year we've seen gains of around 40% which speaks for itself.
The Manager, Hotel Aqua, Portland – Dorset www.hotelaqua.co.uk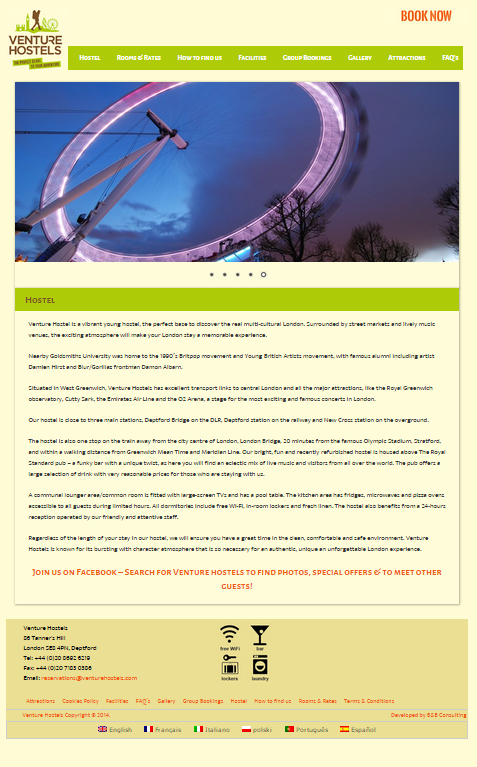 The Brief  
Venture Hostels is a hostel in Deptford London and until August 2014 has been trading as Journeys Greenwich part of the chain Journeys http://visitjourneys.com/
The manager has been at the hostel for the last 3 years and he decided to invest his time and dedication to turn it into an independent hostel, more modern and vibrant hostel.
From August 2014 the hostel started running independently and and asked B&B consulting to help with the process of becoming an independent successful hostel with a minimum impact on sales during the process.
What we did 
B&B consulting helped and advised the manager on  the new hostel branding.
Designed and created the hostel website www.venturehostels.com using wordpress; registered the domain, created the email accounts and presented the website in 6 languages to the manager.
Created all the social media and integrated the booking engine on the facebook page, optimized the website and social media.
B&B Consulting is now the revenue manager of the hostel.
The results 
The website is now live and already generated enough traffic and income in a month to pay for itself. The website is already on the first page of google.
The social media is growing and has 3.2k followers on facebook!
The full revenue management already produced amazing results on its first month and the hotel had a whopping 95% occupancy level, increased the ADR on 20% and created 30% extra in revenue. Direct bookings are increasing meaning less commission to pay to agents.
 The feedback from our customer
soon to feature